Become part of a unique network with ties to Switzerland and Sweden as a member of the Swiss Chamber of Commerce.
You can be a member of the Swiss Chamber of Commerce if you are: A company, a foundation, an individual businesswoman/businessman or manufacturer operating with a certain connection to Switzerland. Swiss Chamber of Commerce is also open to individuals as supporting personal members. As a supporting member you pay a reduced fee in order to support the organization in its activities.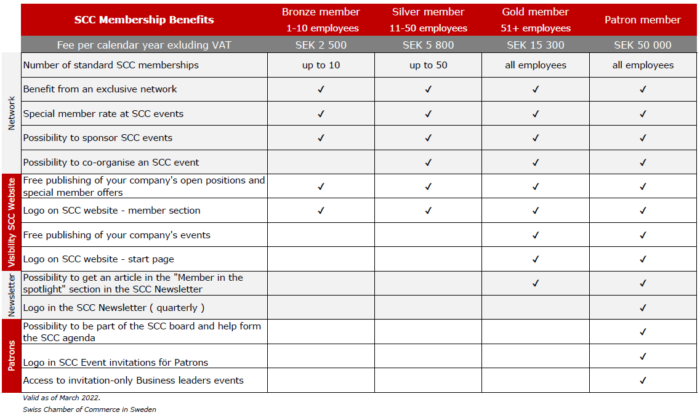 Click here to view our Membership Benefits
Membership fees 2021:
Patron member: SEK 50,000
51+ employees: SEK 15,300
11-50 employees: SEK 5,800
1-10 employees: SEK 2,500
Individual members: SEK 1,000 incl. VAT
All corporate fees above are excluding VAT. The fees consist of a membership fee of SEK 300 and a service fee for the remaining part. The service fee is subject to 25% VAT.
Apply here: