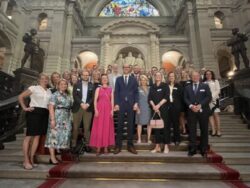 On Tuesday 13 June 2023, we were kindly hosted at the Swiss Parliament for the Inauguration of the Swiss-Swedish Parliamentary Group by the co-Presidents of the group, Martin Candinas, National Council President, and Irène Kälin, Member of the National Council.
They offered a personalised guided tour of the Parliament followed by a welcome speech, as well as short speeches by the Swedish Ambassador-Designate, Carl Magnus Nesser, Martin Bürki, Managing Director of Ericsson Switzerland, and Dr Beatrice Engström Bondy, Chairperson of the Swedish Swiss Chamber of Commerce.
The purpose of the Swiss-Swedish Parliamentary Group is to promote contacts between the two countries regarding economic policy interests, as well as bilateral relations in relevant areas. Specifically, an exchange with members of the Swiss Parliament and representatives of Swedish organisations in Switzerland. The goal is mutual understanding and regular dialogue and thereby the development of bilateral relationships. Read more here.