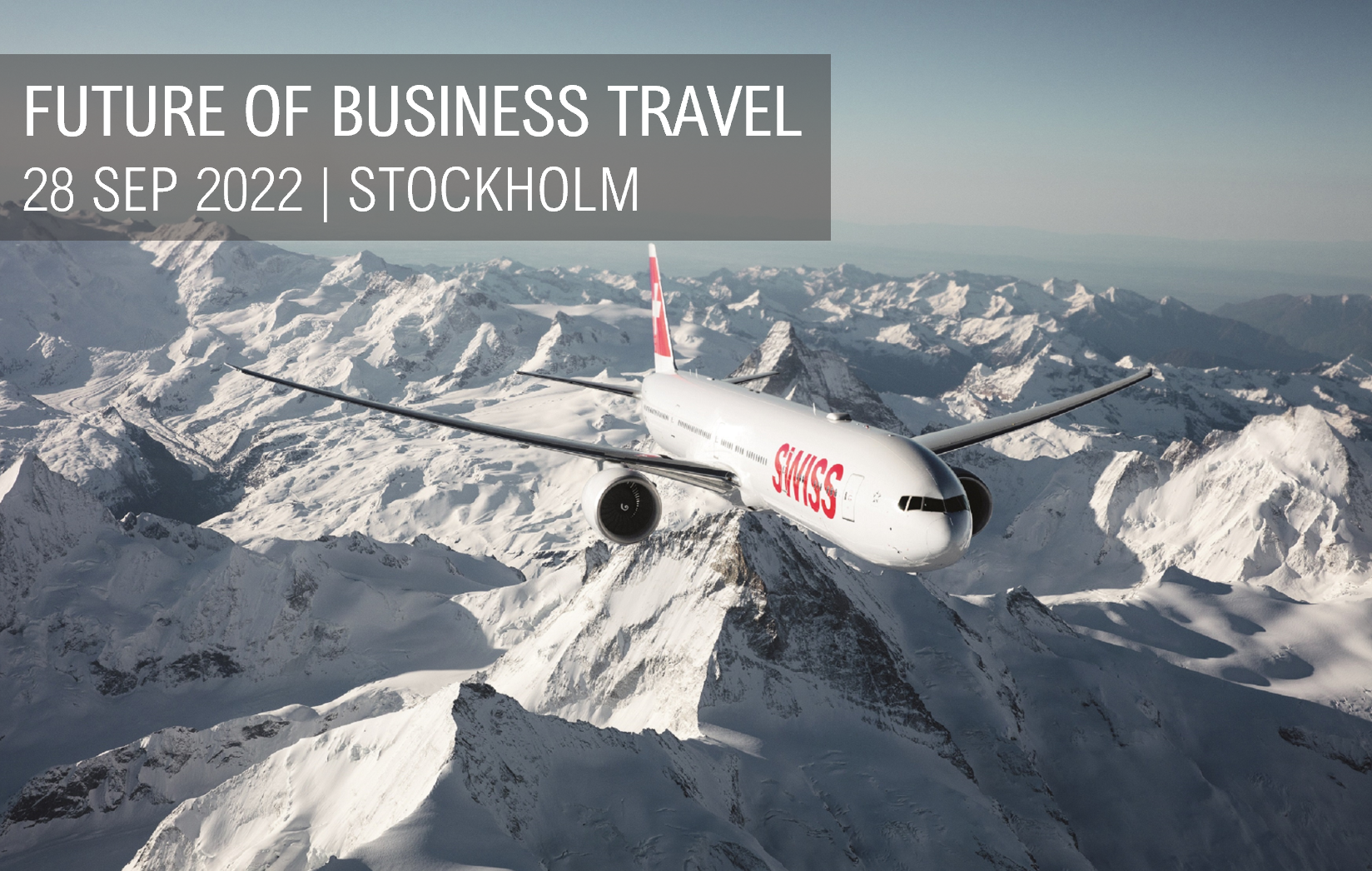 FUTURE OF BUSINESS TRAVEL – 28 SEP 2022
The Swiss Chamber of Commerce is pleased to invite you to our upcoming event "Future of Business Travel" on 28 September 2022 in Stockholm. Our speakers and moderator will discuss the current situation and future possibilities in the aviation industry.
We all believed that 2022 was going to be the year of recovery in international travel. However, the current Russian war in Ukraine has cast yet another big shadow over the expected post-pandemic rebound.  The spike in oil prices and longer flight routes from Asia promises to raise operating costs for airlines and increase prices for consumers.
How are Lufthansa/SWISS managing the dual hit of a collapse in travel during the pandemic, followed by yet another major disruption due to the war in Ukraine and its effects? On the other hand, how are companies such as Roche planning their business travel for the future responding to both the higher travel costs and significantly improved digital opportunities for their employees to meet with business partners?
We are pleased to announce that we have Corinne Genoud at Switzerland Tourism to moderate the discussion on the future of business travel.
During the event, we will discuss questions such as:
o   How will behavior around traveling change post-pandemic and in response to the current crisis?
o   What are the different patterns in future business and private travels?
o   Will the current focus on sustainability have a broader impact on the mindset of traveling?
o   What are the future challenges and opportunities regarding international travel?
o   What new processes and technologies can we leverage to improve our sustainability footprint?
AGENDA:
11:30 – 11:50 Registration
11:50   Welcome by Anne Brennwald, Managing Director Swiss Chamber
12:00   Lunch with presentations and discussions with:
Keynote Håkan Bäverstrand, General Manager Sales Sweden Lufthansa Group/SWISS
Keynote Per Brinck, Head of Corporate Sustainability Roche
Moderator Corinne Genoud, Director Nordic Countries Switzerland Tourism
13:30   End of event

We are looking forward to welcoming you to this event!